[RE]CONNECT: Seattle Arts Leadership Conference is a full-day event, hosted by Seattle University's MFA in Arts Leadership program. We are partnering with Seattle Arts Leadership Team (SALT) and the Office of Arts and Culture to present an exciting day of provocative speakers, professional development workshops, and artwork. The conference will conclude with a reception in the Kinsey Gallery on the Seattle University campus, which will showcase a month-long exhibition of artwork created by students and alumni.
Our theme this year refers to the community and personal connections created through the arts, symbolizes our continued commitment to building deep relationships between the Arts Leadership programs and the Seattle arts community at large, emphasizes our commitment to social justice and equity, and focuses on issues that impact a diverse range of practitioners and organizations.
Full Conference Schedule Now Available
8-9am: Registration, Coffee & Pastries- Student Center Lobby & LeRoux Room (Student Center 160)
9-10:00am: Session #1
Student Center 130A: Holly Jacobson- Path with Art: Why Access Matters
Student Center 130B: Ki Gottberg & Missi Smith- Tales from the Wild Seas of a High Mountain Desert Valley
Student Center 210A: Toyia Taylor (MFA '11)- Authentic Voices: The Art of Speaking with Purpose
Student Center 210B: Campbell Thibo (MFA '14)- Fissures: Creating Arts Communities by Opening the Earth
Pigott 100: David Orace Kelly (MFA '10)- Arts Entrepreneurship: How to Create Your Own Business or Organization
Pigott 101: Artists UP- Cultural Venture: Artists Up-Grant LAB
Pigott 102: Holly Arsenault & Monique Courcy (MFA '13)- Leadership Transitions: How to Do It Right
10:15 - 11:45am: Session #2
Student Center 130A: Vanessa Villalobos (MFA '14)- Dance for Community Engagement
Student Center 130B: Andrew McMasters- Using Improv to Build Capacity: Innovation, Creativity and Confidence
Student Center 210A: Thom Mayes (MFA '10)- The Art of the Turnaround: Taking Arts Organizations from Struggling to Success
Student Center 210B: Rebeqa Rivers- Reconnecting Art with Identity in Education & Outreach: A Case Study
Pigott 100: Stacy Hicks (MFA '14) & Ben McCarthy (MFA '14)- Volunteers in Action: Partners in Achieving Mission
Pigott 101: Kathryn Martin- Connecting to What You REALLY Want - Tools, Tips and Training
Pigott 102: Monique Courcy (MFA '13), Ashraf Hasham, Kristen Ramer Liang (MFA '15), Caroline Rensel, & Lindsay Thomas- Engaging and Retaining Young Arts Audiences with PNB and TeenTix
12-12:30pm: Networking Lunch
12:30-1:30pm: Keynote Address with Jane Golden, Executive Director of Mural Arts Philadelphia
1:45-3:15pm: Session #3
Student Center 130: Michelle de La Vega & D.K. Pan- Art in Process
Student Center 210: Cassie Chinn & Matthew Richter- King Street Station and the Crisis of Affordability: Cultural Spaces and Critical Junctures
3:30 - 5:00pm: Session #4
Student Center 130: Seattle Arts Leadership Team- (In)consistency: Connections Between Art + Place + Equity
Student Center 210: Jane Golden- Mural Arts: Sharing Strategies for Successful Community Engagement
5-6:30pm: Reception in Kinsey Gallery, Alumni & Admissions Building
Work and Performances by: Sacha Bliese (MFA '15), Jessica Cattle (MFA '18), Ryan Chesla (MFA '15), Matt & Roxy Hornbeck (MFA '11), Natalie Miller (MFA '18), Hanako O'Leary (MFA '16), Lawrence Pitre (MFA '17), Carson Rennekamp (MFA '18), Karya Schanilec (MFA '18), Campbell Thibo (MFA '14), and Sharon Nyree Williams (MFA '09)
Tickets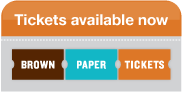 $50 early bird pricing | $60 after 1/16/17
50% discount for current MFA Arts Leadership students (contact Jen Smoose for discount code)
Tickets will be available for purchase the day of the event. Cash Only.
Students attending as part of a class get in for free, but you still need to register! Contact Jen Smoose for comp code.
These prices are only to cover the costs of the conference. The program and university are not profiting off of the conference.
We would like to thank the following organizations for their generous donations:
Check out photos from last year's conference!
Last year's conference topics, included "Entrepreneurship in the Visual Arts," "Social justice and Equity in the Arts," and "Current Trends in Resource Development," and keynote speaker Zannie Voss, Director of the National Center for Arts Research (NCAR), who shared evidence-based insights into the health of arts and cultural organizations in America.