Hidy Basta, PhD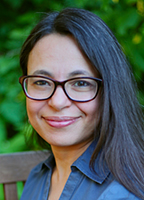 PhD, Language and Rhetoric
she/her/hers
Writing Center Director
Assistant Professor
Email: bastalah@seattleu.edu
Phone: 206-296-6453
Building/Room: LEML 254
Hidy Basta CV (PDF)
Biography
I have a Ph.D. in Language and Rhetoric and an M.A.T. in English to Speakers of Other Languages from the University of Washington. My research and teaching interests include critical discourse analysis, interdisciplinary writing, genre theory, language ideology and identity, bilingualism, and narrative analysis. I have taught several classes in service learning and the Interdisciplinary Writing Program at the University of Washington and at Antioch University. Over the past few years, I directed the Center for Teaching and Learning and the Academic Support Lab at Antioch University Seattle. My current research focuses on exploring the role of feedback on students' writing and the role of peer consultations in facilitating creativity and risk-taking in academic writing. I enjoy good conversations and good food, hikes, camping under the stars, adventures with my family, and to varying degrees of helplessness: gardening and video games.

Current and Recent Course: Tutoring Writing: Theory and Practice, Writing the Research Proposal, Writing the Literature Review, Writing in Psychology, Inquiry and Research.

Dream or Future Courses: I've been dreaming about teaching courses about Language and Discrimination: A Critical Discourse Analysis, Language and Gender, Composition Theory.
Education:
Ph. D. Language and Rhetoric, University of Washington 2010
MATESOL, University of Washington, 2001