Yingwu Zhu, Ph.D.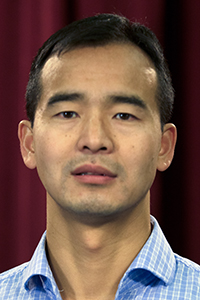 Computer Science
Professor and Director of MSCS
Ph.D., Computer Science, University of Cincinnati
Email: zhuy@seattleu.edu
Phone: 206.296.5515
Building/Room: SINE 302-09
Teaching Interests:
Data Structures and Algorithms
Computing Systems
Computer Networks
Distributed Systems
Research Interests:
Dr. Yingwu Zhu's research interests lie broadly in distributed systems and computer networks. In particular, his recent research projects focus on peer-to-peer (P2P) video on demand (VoD), P2P continuous query, cloud computing, social networks, Internet congestion, and Internet of Things (IoT). He has published about 50 papers on many premier peer-reviewed journals and conferences, including IEEE Transactions on Parallel and Distributed Systems (TPDS), IEEE Transactions on Computers (TOC), Journal of Parallel and Distributed Computing (JPDC), IEEE International Parallel & Distributed Processing Symposium (IPDPS), International World Wide Web Conference (WWW), International Conference on Parallel Processing (ICPP), International Conference on Distributed Computing Systems (ICDCS), and IEEE Symposium on Reliable Distributed Systems (SRDS), to name a few. Some of his publications have received more than a hundred citations.