Seattle University recently launched an innovative, alternative high school on campus aimed at students who seek a small setting to complete their high school graduation requirements and prepare for success in college, careers and life.

Located at the north end of Loyola Hall, Middle College High School at Seattle University is administered by the Seattle Public School District and intended for students ages 16 to 20.

It's a dynamic collaboration between the College of Education and Seattle Public Schools that has been many years in the making, according to Charisse Cowan Pitre, associate professor in SU's Master in Teaching (MIT) program and the Middle College partnership director. SU faculty and students contribute advice, advocacy, resources and support for the school in exchange for real-life learning opportunities.

"The students here have just as much promise as any other young person with hopes for a bright future, but they may not have had the opportunity to succeed academically," says Cowan Pitre. "This partnership provides the opportunity for students to reach their academic goals and prepare for college and a career."

The school, which opened in mid-November with 25 students, is designed for a maximum of 40 to 50 high school juniors and seniors. Recruiting students who live near campus is a goal.

The successful Middle College concept began in New York City in the 1970s and opened its first Seattle site in 1991. The program now thrives at five locations throughout Seattle with nearly 200 students. Margit McGuire, MIT program director in the College of Education, and the late Sue Schmitt, former dean, were instrumental in the planning for a Middle College at SU.

Beth Brunton, Seattle Public Schools site coordinator and a humanities teacher, says factors that draw teens to the transformational learning environment of a Middle College are adversity at home and challenges at a traditional high school. Thinking, listening and communication skills and managing goals are frequently as important as academics. Community building, leadership and setting norms—all common threads at Middle College—help students develop resilience and college readiness, says Brunton.

At a Middle College open house in late January, President Steve Sundborg, S.J., told a crowd of supporters, educators, families and students that the university's priority is to put the good of students first, including those at Middle College.

"Middle College takes a central place in our commitment to youth and that's why it makes sense to have it at the heart of our campus," he said. "With the launch of Middle College, we're a better university, truer to our mission and committed to its success."

Seattle Schools Superintendent Jose Banda also spoke at event and described the university as a welcoming partner engaged in the community, especially the public school system.

"This partnership provides an opportunity for Middle College students to experience a university campus," Banda said. "What an added benefit to be part of a university. And not on the outer edges, but right here in the center of Seattle University. That says something."

The individualized attention Middle College students receive blends group learning with digital curriculum, says Brunton, who taught at the Northgate Mall Middle College for 11 years before the SU site opened. Students focus on core classes of humanities, math and science in the morning. Afternoons are more student-directed and include special programming, often with guest speakers and career-focused panels.

Senior Marche Rhyne lives just a five-minute walk from SU. He credits his grandmother with recognizing the value of a smaller school for him. "I was a slacker in middle school and never had a lot of ambition. High schools are full of so much drama and too much trouble," Rhyne says. "Now I'm just about my education. Completing and accomplishing things gives me hope and the drive to do more." His dream is to become a music producer.

When Anh Pham and his family came to the Puget Sound region from Vietnam in 2008, he spoke no English. He recalls sitting in a classroom that first year unable to speak or understand. It became progressively easier for him, yet he soon recognized he wasn't learning in a traditional high school. At Middle College, the senior says what he likes best are the teachers, who genuinely care for him.


"I've learned how to work for myself rather than depend on others," says Pham.

Believing in the students and creating bridges to success for them is a big part of the Middle College teaching model, Brunton says.

"I don't want this to sound like a fairytale. It's hard work," she says. "The best part is seeing the transformation in students, from the very beginning to when they come back to see us after they've graduated and share how their hard work paid off."

ONLINE EXTRA—MY STORY

By Annie Beckmann

As Beth Brunton spoke of Middle College High School at Seattle University, she said it's not always easy to convince people why a school like this is needed. When she made that remark, my mind drifted for a nanosecond to my own teenage years.

I recollected all that happened after my father's career took a tumble as a big-city advertising executive, a la TV's Mad Men. At 16, drooling to get my driver's license, my father's new Thunderbird was repossessed, an event that happened to coincide with the release of the Beach Boys' hit "Fun, Fun, Fun" ('til her daddy takes the T-bird away). I cranked up the volume whenever the tune came on the radio like any rebellious teen might.

Then I remembered the dark months that followed when my father was out of work. His whole demeanor changed. Soon my mother discovered she had cancer. My parents separated. We moved out of the big house in the 'burbs. Then Mom, barely 49, died. Dad had what in those days was called "a nervous breakdown" and landed in the VA psych ward. The downward spiral happened so fast, it was tough to catch my breath.

By age 17, I didn't have a home. An aunt and uncle, who lived nearly an hour's drive from my high school, insisted I live with them. After little more than a month, they realized a grieving, angry teenager was more than they could handle. They asked me to leave.

It was my last semester, I kept reminding myself, and although school was a struggle, I was a good student. Finding a place to land with a stable family until I graduated became my top priority. Not many possibilities came to mind. One big, happy Irish Catholic family stood out, though. The Collins family had a huge house that was a 10-minute bus ride from my high school and eight kids. What's one more, I reasoned?

I vividly recall sitting in the breakfast nook of the Collins home sipping tea and eating cupcakes with Mom Collins, hoping and praying I could convince her to take me in. Looking back on it now, I feared the worst. I did my best to stay a step or two ahead of where I was to survive. Yet at that moment, I could not envision a next option.

At my gigantic high school of 4,800 students, it was tough to concentrate in classes, wondering all the while what my fate would be. To luck into the advocacy and support of a Middle College High School would've addressed some of my life's complexities just then. That kind of environment could have galvanized an educational pathway for the college years ahead.

Plus, I needed plenty of encouragement to heal and go forward.
When the Collins clan welcomed and nurtured me, it rekindled my self-confidence. They watched me graduate from high school with honors and land a whopper of a scholarship to boot. They told me what a survivor I was and waved goodbye when I went off to college where life's adventures continued.

I was brought back to reality when I saw the empathic look on Beth Brunton's face as she expressed the challenges facing many Middle College High School students who as teenagers are still developing their resilience as they encounter life's adversities.

"Yes," I told her, "I do understand their struggles."

As a teen in a tailspin, I had more resources than the students Brunton described, though. I often wonder what might have happened if I hadn't.

"You're doing something quite amazing here," I said softly.

She knew I understood and at that moment we both had tears in our eyes.
Beth Brunton, site coordinator of Middle College High School, left, talks with Charisse Cowan Pitre, an associate professor in the College of Education and students, Myra Williams, center, and Justice Reed during a recent Middle College class.
Seattle Schools Superintendent Jose Banda visited the Middle College during its open house earlier this year.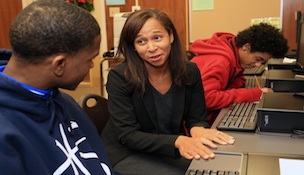 Charisse Cowan Pitre talks with Middle College High School senior Zeb Davis during a recent class.