There is no doubt that information technology is fueling the U.S. economy. According to the U.S. Department of Commerce, Bureau of Economic Analysis (BEA), between Q1 of 2020 and Q1 of 2022, the information technology industry grew by 47%, well ahead of the overall Gross Domestic Product (GDP) growth of 18%. In 2021, the United States tech sector contributed around 2.4 trillion U.S. dollars to the country's GDP, making up approximately 10.3 percent of the total GDP.
Information technology fuels innovation and is key to achieving business success, having the same impact on modern businesses as steam had on the industrial revolution. The digital revolution has brought benefits to nearly all businesses, even those as tangible as agriculture. Farmers utilize computers for various tasks such as maintaining production records, financial planning, conducting research, and procuring supplies.
Workplace Discrimination Remains
Despite the lightning growth of information technology employment opportunities, there has been a noticeable lack of opportunity for women, workers over 40, and other minority groups. Despite numerous legislative efforts at the Federal and state levels to prevent discrimination—beginning with the Title VII of the Civil Rights Act of 1964 and continuing with the Age Discrimination in Employment Act of 1967, the Rehabilitation Act of 1973, the Civil Rights Act of 1991, and the Lilly Ledbetter Fair Pay Act of 2009—efforts to counteract discrimination can pose challenges to eliminating discrimination along race, gender and age.
Based on a diversity study conducted by the U.S. Equal Employment Opportunity Commission (EEOC), the information technology sector hired a larger share of white employees (63.5 percent to 68.5 percent) compared with African Americans (14.4 percent to 7.4 percent) and Hispanics (13.9 percent to 8 percent). In the practice of daily work, people of color also reported more workplace discrimination.
Gender disparities continue to be reflected in two ways. First, the number of female IT professionals is disproportionately low compared to the number of male IT professionals. The EEOC reports a larger share of male professionals, around 64 percent, compared with female professionals, at 36 percent). Second, females have experienced more gender discrimination in the workplace compared with males.
Discrimination also goes beyond race and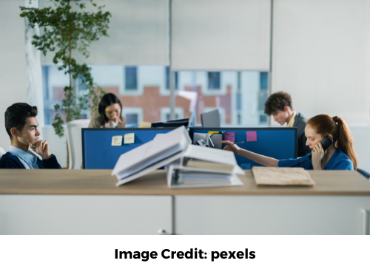 gender. The high-tech business also has a reputation for age discrimination. A 2018 study shows that about 75% of IT professionals are younger than 35, and 61% of IT professionals over 45 worries about their career options. "It is a poorly kept secret that the tech industry favors younger team members."
There exist other factors that contribute to workplace discrimination, such as educational background, sexual orientation, and disability status. More investigations are required to gain deeper insights into the impact of these factors on workplace representation and discrimination in IT.
What Can Be Done?
One option to address these systematic problems rests with organizations and their leaders. Diversity training, for example, offers structured and deliberate programs aimed at enhancing interaction and collaboration with individuals from a range of diverse backgrounds. Today, more and more businesses are embracing a diverse working environment, making diversity training an essential element to business success. This is particularly true for the IT sector.
One of the most adopted and effective approaches to enhance diversity is through awareness training. Awareness training educates employees about their own behavior. The integration of such consciousness-raising exercises aims to improve the problem-solving and decision-making capabilities of team members in order to expose how they may treat others with different memberships and backgrounds. Such initiatives foster a culture of respect and appreciation within the workforce and are part of larger efforts to build a diverse, equitable and inclusive workplace culture.
But another important element of our response is higher education and the preparation of tomorrow's IT professionals. As the first African-American Secretary of Labor, Alexis Margaret Herman, put it, "education is important…people need to know that workplace discrimination still exists. It is still real in the workplace, and we should not take that for granted." This basic insight picks up on a basic truism: education and professional training is a critical component of raising ethical awareness and solving ethical issues. In 2008, researchers from Penn State investigated the impact of education on ethical behavior in the IT sector. The results indicate that teaching ethics in information technology programs—by intentionally and concretely examining real ethical problems—positively affects ethical decision making.
Seattle University's Albers School of Business and Economics, as well as the College of Science and Engineering, strives to provide an education that contributes to this mission through a critical examination of the opportunities that information technology makes possible. A necessary condition for this includes how IT professionals are regarded at work and how well each member of society can contribute to the productive development of IT.
Share on Facebook and LinkedIn!