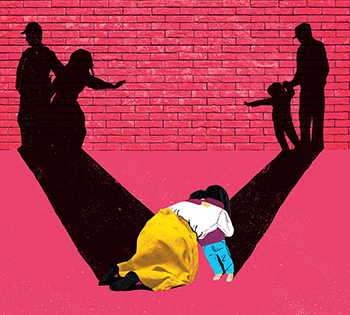 President Donald Trump made the fifth day of his presidency immigration day.
First, he signed an executive order to plan, design and build a border wall, states a story posted Jan. 27, 2017, on PolitiFact, which is owned by the nonprofit Poynter Institute for Media Studies.
Next was an order to hire 10,000 more Immigration and Customs Enforcement officers, which was followed by an order directing officials to look at how federal funding could be cut from sanctuary cities. During an interview that evening with ABC News, Trump doubled down on his erroneous claim there is no system to vet refugees.
Since then, many immigrant and refugee families have been detained and separated, and some adults and children have been locked in cages. Many were held in such overcrowded quarters they couldn't lie down to sleep. Some lacked good food and access to water, toothbrushes and health care, even when sick. The locations of many separated children are unknown, and some toddlers have faced immigration court judges all alone. As of June 9, 2019, NBC reported, 24 immigrants had died in ICE custody.
With so many immigrants and refugees experiencing the trauma-related impacts, social workers are stepping up to help in varied ways, from direct care to advocacy.
On the Border
One big issue seen in Texas is higher fees for immigrants who want to enter the U.S., said Will Francis, LMSW, executive director of NASW-Texas.
"They're trying to make one of the barriers a financial issue," he said. "What it shows is this administration is going to do anything it can to put up barriers to stop them."
"It's not working. The situation is, we're still seeing families come. People fleeing violence are coming to the border seeking asylum and have to wait in Mexico. We see communities here in Texas relying on donations because the system is starved of resources."
The facilities holding families together are at capacity, Francis said, and unaccompanied children are held separately, but the facilities are very hard to get into and he believes conditions are unsanitary and traumatizing.
"They don't want anyone to know what's happening inside," he said. "The staff in these facilities do not have trauma-informed training, and they don't have the mental health facilities that are needed. They're treating these people as criminals when they're fleeing violence and seeking safety and support."
"The whole system is set up to do harm, and I think that's what the administration wants. It's like if someone comes to your office for therapy and you lock them in your closet."
Francis believes the solution lies in supporting change and resources.
"We have to look at it from a humanitarian standpoint," he said. "There is inadequate medical care, therapeutic care and mental health care."
Range of Trauma
Cheryl Aguilar, founder of and lead therapist at The Hope Center for Wellness in Washington, D.C., said when asylum seekers come to the border and are not let in, and when immigrants come and are separated from family members, it can cause anxiety, depression and post traumatic stress disorder.
"The structure of attachment is critical to a child," she said, "and if all of a sudden a parent or person they trust is not there, it's really scary, especially if they call out and the parent can't respond. When a child knows someone they trust is not there — and the people who are there are not friendly — anxiety is what's going to happen."
Adults already have been traumatized because they were forced to flee violence, poverty or the lack of opportunity — and took a long, dangerous trip on foot, Aguilar said.
"I think the hardest part of what we're seeing is, it is driven by policies and it's really affecting the health of individuals," she said.
Andrea Haidar, MSW, LSW, behavioral health coordinator at Inner-City Muslim Action Network in Chicago, provides therapy to families and individuals of all ages. The facility is a health center with a mandate to serve all who walk in, she said, and it receives a lot of Latino and Arab clients.
Haidar sees different impacts on different people. Some who are living away from their families and their culture can feel isolated. Others have experienced violence before coming here, and it can be hard for them to feel comfortable, she said. "Some can feel fear around using services. Generally, trauma impacts the ability to enjoy relationships with loved ones. Violence can affect trust."
The center has an aid/benefits adviser who assists those who qualify to obtain insurance. Haidar said she provides direct services — mainly mental health therapy and counseling.
Providing Services
Social workers can provide the much-needed help because they are trained to respond in a wholistic and comprehensive way, Aguilar said. First, they help refugees and immigrants understand that what they're feeling is normal considering what they have been through. And, they need a wholistic approach.
That can include therapy, both family and one-on-one. Support groups are good, too, because participants can learn from each other, and the groups show people they are not alone, she said.
Social workers should provide trauma-informed care through a cultural lens that accounts for the client's uniqueness, and the psychosocial approach can be helpful, Aguilar said. "Also, mindfulness is an intervention that allows them to ground themselves."
Aguilar said she sometimes thinks about all of the unimaginable things they have survived, and she believes using a strength-based perspective can be beneficial.
"They have strength within them," she said. "Remind them of what they already have overcome. Remind them they know how to get up after they've fallen. They know how to get up in the midst of adversity."
Francis said supporting the families and their connections with each other begins with an assessment to discern the level of trauma using a culturally competent lens, speaking their language, or using an interpreter and seeing the family as a whole system, he said. "There's no question the trauma is there. The question is, what do people need so we can support them?"
Social workers can look for needed resources; offer clinical support, including short-term therapy; help find legal support; and advocate for individuals and families, he said.
"We can look for barriers in the community, find partnerships and resources and use preventive care for children," Francis said. "The goal for all social workers is how do we support these families and their connections with each other."
The answer to that is twofold, he said: direct support and advocacy.
How To Help
Volunteers should check with a state to see what its laws are before going there to help, because state laws vary widely.
Since only social workers licensed in Texas can provide therapy and services, social workers cannot just come to the state and expect to do the same. But there are other ways to help for those who want to work on the front lines, Francis said.
There are various groups working in Texas, and some need or can use volunteers, he said. Basically, there are three areas: the court system, translator/interpreter assistance, and working with organizations where families go when they are released.
"Communication is an issue; so volunteer to translate," Francis said.
One important thing to remember, he said: "We need to continue to advocate for federal change."
Aguilar said social workers are creative, and should look around their communities to see how they can help. If you see the need for a program, create it. If people need information, look at what's needed and what resources are available and figure out how to provide it, she said.
Social workers can write a blog post, talk to the media, write a story containing tips on what to do, or form a group with others, Aguilar said. We know we have more impact when we work in partnership, so we are one of five organizations that came together.
The group holds educational calls, shares information about immigration that affects clients, mobilizes people to attend rallies, and connects online once a month and in person quarterly.
Anybody can figure out what resources are needed for their community. Share training opportunities and take part in actions together, like signing petitions or attending rallies, Aguilar said."Come together and form a working coalition, then work together to figure out how to support each other and the immigrant rights movement."
Addressing Policies
In a 2018 Social Justice Brief, "Migrant and Asylum-Seeking Families: Analysis of Federal Government Policies and Procedures," contributors Francis; Allan Wachendorfer, then director of public policy for NASW-Michigan; and Mel Wilson, then manager, Department of Social Justice and Human Rights for NASW, conclude that current immigration policies and the methods in which they are being implemented violate social work values. The brief ends with suggestions from Social Justice Solutions that address the question many social workers were asking: "What can we do?"
The suggestions include: work or volunteer with community-trusted organizations that have a proven history of advocating for immigrant families; provide support to advocacy groups that work to unite families and prevent separations; educate yourself on legal and policy issues about immigration status and how they affect child welfare and other matters; lobby your members of Congress, and contact local elected officials to push for laws that protect basic human rights.
Coalition Building
Haidar has an idea that began forming when she wrote a paper in 2017 titled, Social Workers and the Protection of Immigrant and Refugee Rights.
In the introduction, she says her ideas are drawn from Deepa Iyer's social movement theories and models that advocate "building multi-racial, multi-issue coalitions that connect immigrant and refugee advocates with other racial and social justice groups."
"That puts it in a broader frame," she said. "All of our rights are connected, and we should care about the rights of others. There currently is an assault on liberties and rights."
In the paper, she describes Iyer's rationale: "For Iyer, advocating for the rights of immigrants, refugees, and minorities required social movement organizing that included broader issues of racial and social justice. While she identifies particular issues that disproportionately affect people from certain identity groups, she situates her call for action within an inclusive framework that welcomes people of all identities to work together and advance each other's causes."
Haidar believes a stronger coalition for immigrants and refugees could come from merging with advocates in different areas. For example, organizations and groups advocating for women's rights, groups supporting LGBT persons, and others addressing issues of race could together be more powerful than alone.
The work of mental health groups, health care providers and lawyers also touches on and relates to immigrant and refugee rights, and professionals in those areas would be valuable to a coalition, she said.
Drawing in and working with varied groups with interests in the population puts any effort in a broader frame, Haidar said. "All of our rights are connected, and we should care about the rights of others. Building support together, we can help advance the cause.