Nova Robinson, PhD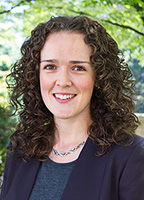 PhD, History
Associate Professor, History
Associate Professor, International Studies
Affiliated with Women, Gender, and Sexuality Studies
Email: novarobinson@seattleu.edu
Phone: 206-296-6994
Building/Room: CASEY 310-03
Nova Robinson CV (PDF)
Biography:
Nova Robinson is a historian of the modern Middle East with a geographic specialization in Syria and Lebanon. Her research is positioned at the intersection of Middle Eastern history, women's history, and the history of international governance. Her first book, Truly Sisters: Arab Women and International Women's Rights, exposes how Syrian and Lebanese women's transnational activism in the early twentieth century contributed to the construction of international women's rights norms. Her second book, The Woman Question: The League of Nations and the Shaping of the International Women's Rights System, explores the role of women from the global south in shaping the current system of international women's rights. She is also co-editor with Bonnie G. Smith of the Routledge Global History of Feminism. Recent articles have been published in the International Journal of Middle East Studies, the Arab Studies Journal, the Journal of Middle East Women's Studies, and Signs: Journal of Women in Society and Culture.
Robinson has been living, working, and conducting research in the Middle East since 2005. She is a frequent commentator on current events in the Middle East in the Seattle area. She received her PhD from Rutgers University, The State University of New Jersey in 2015.
Areas of Research/Interest:
Modern Middle Eastern history; Greater Syria (Syria and Lebanon); Arab women's history; women and gender history; international women's rights; transnational feminism; social movements; nationalisms; state formation and sovereignty; international governance; Arab internationalism; League of Nations; United Nations; UN Commission on the Status of Women (UNCSW).
Courses Offered:
UCOR 1400: Arab-Israeli Conflict
UCOR 1400: Syrian Crisis in Context
UCOR 1400: Women's Rights as Human Rights: A Historical Inquiry
NST/HIST 3560: History of the Modern Middle East
INST/HIST/WGST 3570: Women and Gender in the Middle East
NST/HIST 3910: Middle East & USA since 1776
INST/HIST 3000: Global Histories: Encounters and Exchanges
INST/INST/WGST 3910: Transnational Feminisms
HIST 1210: Studies in Modern Civilization
HONOR 2250: Human Rights in the Modern World