The College of Art and Sciences and Communication Department congratulates the 2017-18 staff of The Spectator and Dr. Sonora Jha, recipients of two prestigious awards from The Society of Professional Journalists Western Washington chapter. The SPJ Wash Awards recognize the work of journalists across the state of Washington.
The staff of The Spectator, Seattle University's student paper, will receive the Susan Hutchison Bosch Award for Perseverance and Quiet Courage. The 2017-18 staff members are Shelby Barnes, Vanessa Brimhall, Bailee Clark, Jessica Domingo, Hannah Duffy, Quinn Ferrar, Taylor Guy, Anna Kaplan, Helen Kesthely, Rachel Larson, Michael Lee, Griffin Leemon, Jacqueline Lewis, Caylah Lunning, Madison McKenzie, Connor Merrion, Emily Mozzone, Michelle Newblom, Cam Peters, Tess Riski, Chris Salsbury, Aryon Shahidzadeh, Samira Shobeiri, Samira Shobeiri, Erika Silva, Nick Turner, Hunter Uechi, Elise Wang, Sophia Wells, and Haley Witt.
The award is named for Susan Hutchison Bosch, an environmental affairs reporter for the Seattle P-I, who contracted lymphoma at the age of 18 while a student at the University of Washington and died of Hodgkin's disease at the age of 25 in 1971. Bosch "personified intellectual honesty, deep understanding of people and their problems, abiding fairness, grace, perseverance and quiet courage," according to the board that established this award in her honor. "Though afflicted with Hodgkin's disease, she rejected despair and chose to live a fully committed life." The award is presented only when the recipient is judged uniquely qualified and his or her work reflects the qualities Bosch defined in life.
"Student journalists, under the leadership of editor-in-chief Nicholas Turner, stood up to powerful people when a professor removed newspapers from their stands in reaction to a front-page photo of a student performing in a drag show. … In response, The Spectator staff will be working with Academic Assembly, the faculty government association, to create a policy at Seattle University that would establish first amendment safeguards similar to public colleges and universities." SPJ Award Announcement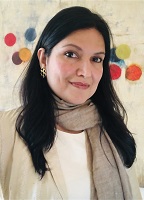 Dr. Sonora Jha, Professor, Communication; Associate Dean for Academic Community; and Faculty Advisor of The Spectator, has been named the Journalism Educator of the Year. The award recognizes a teacher or professor who has made an exceptional contribution to journalism education and standards of the profession.
"Jha, a renowned author and feminist scholar, is a mentor and inspirational leader for students and journalists at Seattle University. She serves as the faculty adviser to The Spectator student newspaper. … Jha stood by her students when challenged by powerful people who took issue with several stories throughout the year." SPJ Award Announcement
All recipients will be honored during the end-of-the-year awards party on June 21.
The SPJ Western Washington chapter board votes each year to award up to five different honors to local journalists and news outlets. These awards recognize excellence in practice in Western Washington journalism.