Presented by Seattle University College of Arts and Sciences and Elliott Bay Book Company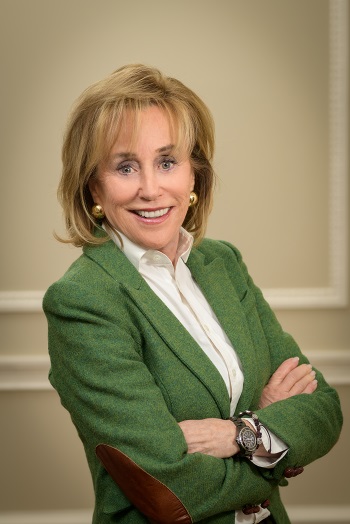 Join Valerie Biden Owens for a conversation about her new memoir, Growing Up Biden. Each paid ticket includes a copy of her book, which will be mailed by Elliott Bay Book Company. President Joe Biden's younger sister, trusted confidante and lifelong campaign manager, talks about her new memoir with SU's Dr. Jeanette Rodriguez.
Tuesday, April 19, 7 p.m., Zoom
Live captioning provided.
Tickets: $40, purchase them here. The Zoom link will be emailed to ticket buyers a few days prior to the event.
ABOUT THE BOOK: Valerie, one of the first female campaign managers in United States history, writes of the role of family, faith, and fate in shaping her life, and the power of empathy and kindness in the face of turmoil and division.
Growing Up Biden details Valerie's decades-long professional career in politics, and the central role she played in her brother's life as an insightful adviser, an ever-loyal advocate and best friend.
This memoir, full of candor and warmth, brings readers into the Biden home and shares stories from growing up in Delaware as the only daughter of the close-knit Irish Catholic family. Valerie writes in a compelling, relatable way about the challenges she faced breaking through gender barriers, the elusive nature of confidence, and navigating professional responsibilities while raising children.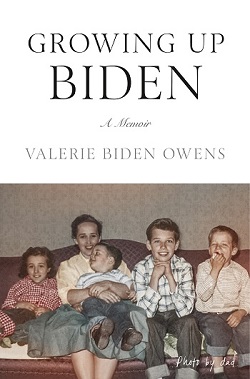 "As a campaign manager, senior adviser or chief surrogate for every one of her brother's campaigns, Valerie Biden Owens has been an integral part of Joe Biden's success, and a profound influence in his life. Her stories of their close-knit Irish Catholic family are deeply moving and funny at the same time. As one of the first women to run major political campaigns, she has been much more than an eyewitness to history—she's been an important part of it." — Donna Brazile
ABOUT THE AUTHOR: Valerie Biden Owens is the first woman in U.S. history to have run a presidential campaign―that of her brother, Joseph R. Biden, Jr. She also led his seven straight U.S. Senate victories and has been his principal surrogate on the campaign trail.
Valerie is Vice Chair of the Biden Institute at the University of Delaware and a partner at Owens Patrick Leadership Seminars. Valerie sits on the Advisory Board of the Beau Biden Foundation for the Protection of Children. For 20 years, when Valerie was not managing or advising President Biden's campaigns, she served as Executive Vice President of Joe Slade White & Co., a media consulting firm. She has worked extensively with Women's Campaign International, teaching women how to organize and develop communication and political skills. Valerie has also served on the National Board of the Women's Leadership Forum of the Democratic National Committee and has served for 35 years on the board of The Ministry of Caring. She is a graduate of the University of Delaware. She is married to Jack Owens, an attorney and businessman. They have three children.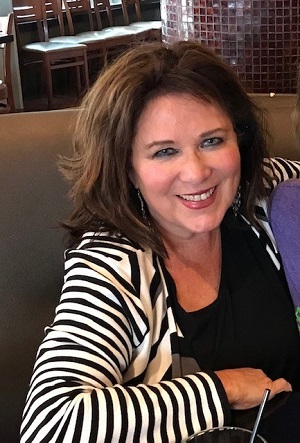 ABOUT THE INTERVIEWER: Jeanette Rodriguez, PhD, is a professor at Seattle University and teaches in the Department of Theology and Religious Studies and the Couples and Family Therapy Program. She serves as Director of the Institute for Catholic Thought and Culture and holds the Malcolm and Mari Stamper Endowed Chair in Catholic Intellectual and Cultural Traditions. Rodriguez is the author of several books and articles concentrated in the areas of U.S. Hispanic theology, theologies of liberation, peacebuilding, and women's spirituality.
Valerie Biden Owens photo credit: Evan Krape, University of Delaware