Originally published in the College of Arts and Sciences Winter 2022 Newsletter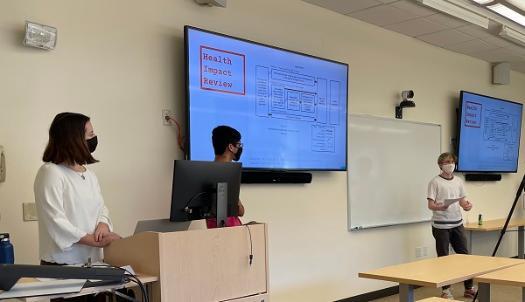 Seattle University students found themselves in a deeply engaged experience connecting them directly to communities and legislative offices this past fall in Dr. Zachary Wood's newly redesigned "Urban Public Policy" class. Students work in teams to identify a working piece of legislation as the focus of their work all term. Assignments are built upon each other to guide students through the steps of research, community engagement, legislative outreach and advocacy, and persuasive communication via different venues. "This became an incredibly fast-paced course," he says, "and teams had to support and rely upon each other to effectively complete assignments and move their work forward."
"This class really helped me hit the ground running during my internship this quarter with a community advocacy organization. So much of what we learned about state and local advocacy and the legislative process has been directly applicable to my work with them. My experience in class continues to help me feel more confident about contributing to policy and strategy discussions in a new professional environment." Mallory Spencer, student, Urban Public Policy
Many of the students taking the class were Public Affairs majors. However, a wide range of other majors were represented, including several students from Environmental Studies and Political Science, as well as students from International Studies; Women, Gender, and Sexuality Studies; and Social Work.
"I learned more from this course than any other course, and it absolutely contributed to my future career path. The experiential structure of the course was ideal, keeping me engaged for reasons beyond just getting a good grade." Urban Public Policy student
Their projects were equally diverse. One group worked on Senate Bill 5122, which would raise the ages for children being considered criminally capable of committing a crime from ages 8 to 13 and considered a more developmentally appropriate age for criminal and carceral culpability. Another group focused on House Bill 1395, which would recognize and ensure equity in farming and agriculture in an effort to undo historical and systematic racial discrimination in farmland and farming resource distribution. A third focused on House Bill 1392 that would create a pilot program for developing a non-police response to mental health episodes seeking to de-escalate non-violent situations using mental health professionals.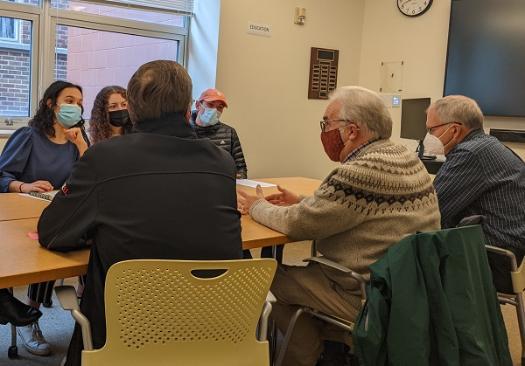 One of the major changes was the addition of "Present and Defend" as the format for the students' public presentations at the end of the course. "The places and scenarios for us to make our case to supporters can be quite diverse, and even unexpected," Dr. Wood says, "When we are working on issue campaigns, we must be ready at any time to meet the moments, as they arise, to make our case, and each of these moments can look considerably different. Being prepared for a variety of opportunities and formats is essential."
He continues, "Each scenario requires slightly different approaches and contains different constraints. The 'guests' might be busy or impatient policymakers, or grumpy dissenters, or community partners expecting new information. Students have to pay attention to who their different audiences might be for each scenario and try to plan accordingly." Each team made their presentations in three scenarios:
Formal Presentation, such as presenting at a community meeting, or a campaign meeting with partners.
Round Table Dinner Event, which could be the casual discussion you might have at an event, or a dinner with colleagues, or even strangers (maybe even a wedding?). You have the time to start a discussion about your issue/bill, but your audience may or may not find your topic interesting. They may even be a dissenter.
Impromptu Meeting in the Hallway, which may be the most challenging, as we never know when these moments might arise, and can even be physically uncomfortable as you are likely standing in a random place. The impromptu nature of this meeting means that your audience might be impatient, late for the next thing, or maybe even say that to you to escape the situation.
"I wanted to ground the complexity of public policy in an interactive environment so that students must experience the wide range of what I called 'the conversations already in progress'," says Dr. Wood. "Community organizations directly impacted by policies in both positive and negative ways hold a great deal of expertise that can go unnoticed without meaningful engagement, and policy-making processes inherently have a multitude of stakeholders who claim power and authority over the policy agenda-setting progress."
The course teaches students how to watchfully engage with these stakeholders and to understand the many perspectives and hidden impacts of decision-making. Students are also required through various projects to think about perspective and arguments outside of their own experience, whether to consider places of compatibility, compromise, or even ideal places for persuasive case-making. They cannot rely only on their own vantage point on the world around them. Working in teams (while so often lamented by students) is an essential part of this work, where students must learn and execute collective decision-making, sharing workloads, mutuality, and accountability. Additionally, this class pushed students to have to be willing to get uncomfortable in their work: calling legislators, building relationships with community organizations, and presenting and defending their work publicly in a variety of scenarios.
"The format of the course was new to me, but I appreciated being forced out of my comfort zone for a lot of these assignments and being able to dive in on one issue." Urban Public Policy student
Dr. Wood initially created the course as an exploration of the policy-making process through the lens of urban issues, and under the overarching question of whether one can solve the deeply complex problems that society faces. "Conceptually it was interesting, though the class was too conceptual in the beginning," he says. "Students would develop policy solutions via research, and they were interesting ideas, but so often couldn't be grounded in the challenging realities of public decision-making, and thus felt flat."
"In 2020 I was awarded a fellowship from the Educational Network for Active Civic Transformation (ENACT) program out of Brandeis University," explains Dr. Wood. "The purpose of this fellowship is to develop engaged undergraduate curriculum that connects students to state-level legislative change." He received structured peer support with Faculty Fellows across the country to help redesign the course, taking the work out of the theoretical space and into the grounded experiential space.
The first goal in Seattle University's Strategic Directions is to "reimagine and revise our curriculum," with emphasis on experiential and community-engaged learning. The newly revised Urban Public Policy curriculum aligns closely with this goal. "It is a direct example of engaged learning strategies for multiple purposes," explains Dr. Wood. "This remake was about giving students a direct access to make sense of the conceptual discussions we continually have with them. They have the chance to center marginalized experiences, consider their own privilege and experiences, connect with alternative goals and ideologies, and meaningfully enter those conversations in real world circumstances. In the end, this is about engaging and empowering students to examine the complexity of the work, while developing confidence about using their skills and human-centered approaches toward meaningful change. Students get to pull the complex and often abstract understanding about being an agent of social change into real strategies and processes, empowering them to see the possibility of a more equitable and humane society through work and progress."
"This course inspired me to become better engaged with my local institutions and with state and local policy. I now know that it really is not that difficult to schedule meetings with my legislators and to be involved in the development and process of passing legislation! I thought that this course was a wonderful example of a class that provides real world tools through hands-on learning, and Dr. Wood was the best, as always."