Seattle University's Criminal Justice, Criminology, and Forensics Department has a very long well-respected history among the greater Seattle community for developing professionals well-equipped to keep questioning and addressing community challenges within our criminal justice, policing, and public safety sector. One of the hallmarks of the program is the opportunity for our students to participate in deep, meaningful research.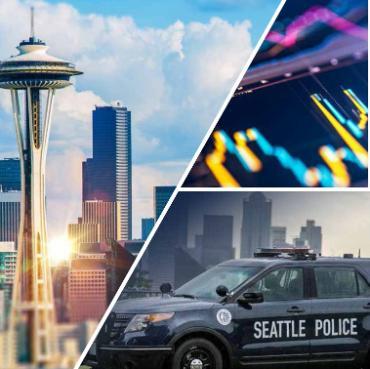 Through the department's Crime and Justice Research Center, both graduate and undergraduate students and faculty work on a variety of ongoing research projects, including the Seattle Police Micro-Community Policing Plans (MCPP). Since 2015, SU research teams have conducted annual independent public safety surveys of MCPP neighborhoods, defined through police-community engagement including community meetings, focus groups, survey data, and the realities of geographic boundaries SPD can use to collect and report on events.
Faculty and students also publish their work widely, including in op-ed columns like this recent one, "Diverse Voices Are Needed to Understand Public Safety and Security in Seattle," written by Dr. Jacqueline Helfgott and graduate students Brian Bledsoe and Katie Kepler in the South Seattle Emerald.
Student Spotlight

Brandon Bledsoe, Master of Arts in Criminal Justice (MACJ) candidate, serves as an MCPP research analyst on the project for the South and Southwest Precincts. In 2023, he will co-present a paper at the 2023 Western Society of Criminology conference with Dr. Helfgott and Shannon Christensen, MACJ '22, (Southern Illinois University doctoral candidate and former MCPP Research Analyst), on community-police dialogues developed as part of the MCPP research. Brandon will also complete his thesis using data from the SPD MCPP Seattle Public Safety Survey and recently co-authored an op-ed in The Seattle Times.
"Before the Badge"
The annual public safety survey has led to becoming part of Seattle Police Department's "Before the Badge" program. This new training program, described in this Seattle Times article, engages recruits in specialized training and community engagement 45 days prior to entering the Washington State Criminal Justice Training Commission's Basic Law Enforcement Academy.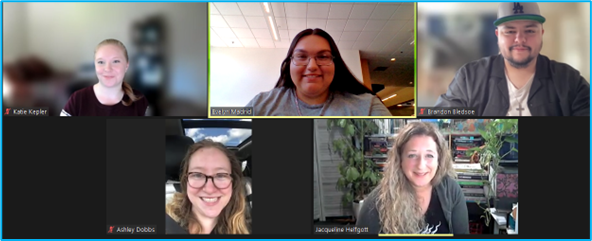 The dialogues were held weekly via Zoom and engage community members with recruits in discussions about precinct and neighborhood-based public safety. The MCPP Research Team facilitated 10 "Before the Badge" Community-Police Dialogues between September and November, engaging community members in conversations with new Seattle Police recruits; these dialogues will continue as a regular part of the SPD Before the Badge training.
The project also includes a three-year longitudinal evaluation of the "Before the Badge" training. Dr. Helfgott is the primary investigator with co-investigator Dr. Matthew Hickman, professor and chair of Criminal Justice, Criminology, and Forensics. Graduate student Bailey Tanaka and undergraduate students Stanton Shinchi and Hailey Calcagn will work as research analysts. The study will involve conducting interviews with SPD "Beyond the Badge" and WA State Criminal Justice Training Commission Basic Law Enforcement Academy (BLEA) recruits. The team will also administer a survey instrument at before and after the "Beyond the Badge" training and following graduation from BLEA, as well as 1-year and 3-years post BLEA.
Deepening Community-Police Dialogue
In addition to the quantitative public safety survey, over the past two years the MCPP Research team has conducted community-police dialogues in between the survey administration (prior to 2020 student RAs conducted focus groups in all Seattle Micro-Communities). During the spring and summer of 2022, the MCPP Research Team graduate students Brandon Bledsoe, Katie Kepler, and Ashley Dobbs and undergraduate student Evelyn Madrid-Fierro co-facilitated 15 virtual community-police dialogues with Dr. Jacqueline Helfgott, Director of the SU Crime and Justice Research Center and Criminal Justice professor. As members of the Micro-Community Policing Research Team, the students worked as paid civilian Seattle Police Research Analysts through a funded collaboration between Seattle University and the Seattle Police Department. The dialogues brought together community members and police in a restorative dialogue framework to discuss concerns about public safety from both community and police personnel perspectives at the precinct and neighborhood levels.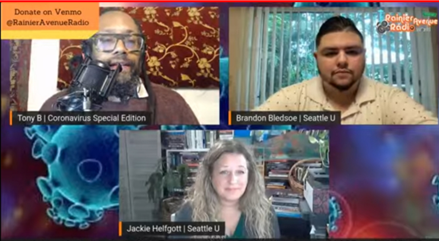 The students conducted community outreach to the community, including participating in media interviews. In one with Rainier Avenue Radio, Dr. Helfgott and Brandon Bledsoe talked about the community dialogues. Listen to the interview here.
The students continued their work this fall, helping administer the eighth annual Public Safety Survey, that was open to all who live and work in Seattle through November 30. The survey, available in Amharic, Arabic, Chinese, English, Korean, Oromo, Somali, Spanish, Tagalog, Tigrinya and Vietnamese, sought to collect community perceptions of crime and public safety. The team is committed to reaching a diverse group of respondents.
In the eight years of the Seattle Police Department's Micro-Community Policing Plans collaboration with Seattle University, a total of 35 students have served as MCPP Research Analysts. In their roles as RAs, the students have gained experience in police-community engagement, survey research, restorative dialogues, data analysis, report-writing, media interviews, academic presentations and publication, and public scholarship. Students who have served in the MCPP RA roles have gone after graduating from SU to careers with the Seattle Police Department as officers, crime prevention coordinators, crime analysts, public records specialists and with other law enforcement agencies as officers (including Renton Police Department, Lynwood Police Department, and federal agencies), King County Forensic Medico-Legal Death Investigator, and in other criminal justice roles as policy analysts and data analysts.
Photos, top to bottom: Graphic for Crime and Justice Research project' Brandon Bledsoe; Research team: Katie Kepler, Evelyn Madrid-Fierro, Brandon Bledsoe, Ashley Dobbs, Dr. Jacqueline Helfgott; Brandon Bledsoe and Dr. Helfgott, with host Tony B. on Rainier Avenue Radio