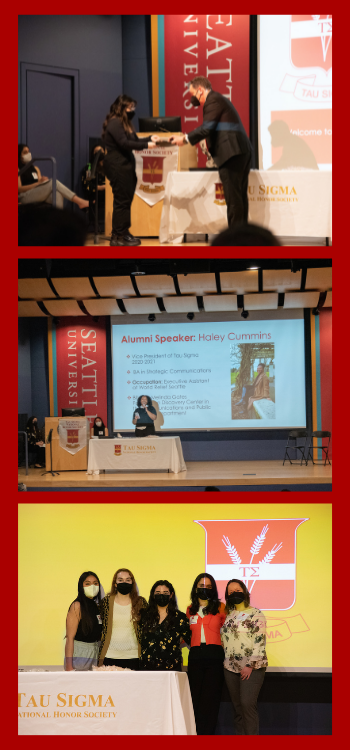 Twenty-one Arts and Sciences students were inducted into the Tau Sigma Transfer Student Honor Society at Seattle University's 12th Tau Sigma Induction Ceremony on March 3, 2022.
Additionally, three Arts and Sciences Psychology students serve as officers of the club this year: Natalie Wiley, President; Erica Reynolds, VP of Community Service; Lindsey Schuler, Director of Communication. Laura Hauck-Vixie, Assistant Director of Academic Advising in the College of Arts and Sciences and Jennifer Bautista, Transfer Admissions Counselor, co-advise the chapter.
Tau Sigma National Honor Society is a national honor society designed exclusively for transfer students. Their mission is to "recognize and promote the academic excellence and involvement of transfer students." Tau Sigma provides its members opportunities to earn scholarships, attend leadership conferences, take leadership positions in the university, and serve others at the university and in the community, all while developing friendships and becoming a more integral part of the university to which they transferred.
Congratulations to the newest members:
Julia Alvarez Serrano, Psychology
Adolfo Bravo, Photography
Christopher Brumett, Criminal Justice
Chanarah Caupain, Communication and Media
Shihui Chen, Interdisciplinary Arts, Arts Leadership
Ripley Detlaff, Criminal Justice
Jennifer Klabo, Creative Writing
Ma Cielita Victoria, Maguddayao, Communication and Media
Katrina Manacio, English
Carmen Montelongo, Kinesiology
Celica Najera, Criminal Justice
Fabiano Nardone, Communication and Media
Vy Nguyen, Psychology
Olivia Okun, Design
Ryan Pottinger, Philosophy
Paige Prombo, Criminal Justice
Abigail Reddam, Sociology
Anthonny Ruiz, Communication and Media
Lilian VanEk, Social Work
Dawson Wheeler, Criminal Justice
Grace White, Psychology
Photos: top to bottom, Dean David V. Powers congratulates a student; Haley Cummins, Tau Sigma alum speaks; Tau Sigma advsors and officers.