Announcing Winners of the 36th Annual Alumni Awards
Posted by Seattle University Alumni Association on Tuesday, November 8, 2022 at 2:51 PM PST
The Seattle University Alumni Association is proud to announce the Alumni Award winners: five individuals who have demonstrated exceptional leadership, service to the university and community, a commitment to care, academic excellence, diversity, justice and an alignment with our Jesuit values:
Alumna of the Year: Ana White, '95
Outstanding Recent Alumnus: Archie Roundtree, Jr., '18
University Service: Mary Ann Goto, '79
Professional Achievement: Rolita Ezeonu, '06
Community Service: Tom Roach, '71
These exceptional alumni will be celebrated at the Alumni Awards ceremony on Friday, February 10, at Pigott Atrium and Auditorium. The following vignettes highlight the positive impact these alumni are having in their professions, communities and the Redhawk community as a whole: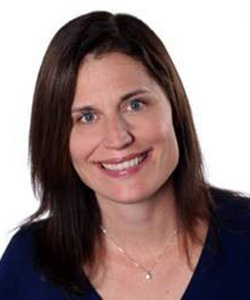 Alumna of the Year Award
Ana White, '95
College of Science and Engineering
Ana White received multiple nominations that touted not only her leadership at F5, but also her ongoing work to support Seattle University.
As the Chief People Officer at F5, White is described as a generous and courageous leader, one who has shown exceptional leadership in spearheading a human-first and high-performance culture.
One of her first projects was to help develop and define the "BeF5 behaviors." This required working closely with employees, listening deeply and responding with a framework of behaviors that would come to define the company culture. White then worked with the Executive Leadership Team and her HR team to create "LeadF5 principles" and a leadership framework that has raised the bar on leadership at F5.
Next, White led the efforts to create "radically flexible" schedules and work-from-home options, implemented quarterly four-day "wellness weekends" and increased access to mental health resources. White and her team also boldly raised the bar on Inclusion, Diversity, Equity and Allyship (IDEA) at F5 over the past four years. On Glassdoor, F5's 'Culture and Values' and 'Diversity and Inclusion' ratings are 4.4 out of 5.0 and they have won Great Place to Work awards in both the US and India. Perhaps her greatest achievement was the creation of F5 Global Good, an employee-led philanthropic program that invests in communities worldwide, with an emphasis on helping women and girls of color. F5 Global Good was recognized with Benevity's 2022 Bestie Award for F5's "best-in-class approach to corporate purpose" out of a pool of over 900 other companies.
White's list of achievements and engagement with SU are no less impressive. She has served on the Center for Science and Innovation Task Force and created a STEM scholarship in her parents' names (both of her parents are SU alums). Additionally, she has been a key contributor to discussions around diversity, equity and inclusion in STEM.
For these achievements, and for embodying the mission and Jesuit values of Seattle University, Ana White, '95, has been chosen to receive the SUAA's highest honor: Alumna of the Year.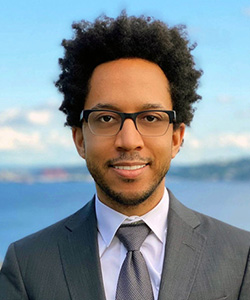 Outstanding Recent Alumnus
Archie Roundtree, Jr., '18 JD
School of Law
To find a person who's deeply motivated to give back and improve the world around them, look no further than Archie Roundtree, Jr.
After graduating with a doctorate degree from the School of Law, Roundtree focused on a public law career serving underprivileged communities in Los Angeles County at Bet Tzedek Legal Services as an Equal Justice Works Fellow. He also simultaneously served as a Shriver Center: Racial Justice Institute Fellow.
His proclivity toward service has manifested in many ways. In his current role at Justice in Aging, Roundtree works to advance equity for low-income older adults while pursuing systemic change in law and policy. Additionally, Roundtree lends his time with underserved communities that have limited access to legal advice. He has long been a mentor to students, guiding them through educational and career choices and advising them on legal and financial literacy. Roundtree has found his voice and continues to speak on local, regional and national platforms.
Roundtree's multiple nominators depict him as thriving in situations where he has a chance to improve the quality of life through intentional self-reflection. In order to do so, Roundtree believes in striving toward physical, mental, social, and spiritual health; that we can only do our finest work when balance is found.
Beyond sharing his experiences and legal expertise with current SU students, Roundtree also stays connected with the university as a member of the School of Law Alumni Board.
For having achieved so much in the short years since he graduated, Roundtree is the recipient of the Outstanding Recent Alumnus award.
University Service Award
Mary Ann Goto, '79
College of Arts and Sciences
It's been said that because of her deep connections with Seattle University, Mary Ann Goto knows everybody in the SU community, and that everybody knows her.
Goto frequently volunteers at SU events, participates in fundraisers and is often found connecting with other alumni around campus. Recently, she helped plan her class reunion, bringing in alumni from Hawaii for the celebration. For many years Goto was a key leader of the Filipino Alumni Chapter, helping to lead monthly gatherings, plan community events and historical celebrations and build close ties with the Filipino American National Historical Society.
A natural ambassador and leader, she is masterful in forging connections between the university and the community. Her connections are deep, from her support of alumni-owned businesses to her volunteer work with non-profit organizations such as the Seattle Asian American Film Festival, InterIM CDA, the Japanese Cultural and Community Center of WA, Keiro Northwest, and the Japanese American Citizens League. A known "foodie," Goto has made efforts to uplift small, mom-and-pop establishments that were struggling during the pandemic, such as Phnom Penh Noodle House, Patrick's Cafe and Bakery, Musang and Hood Famous.
The desire to serve is embedded in Goto's character and goes well beyond her volunteer efforts. Professionally, Goto works for Asian Counseling and Referral Service, helping to raise funds for vulnerable members of the community.
For living out Seattle University's Jesuit values, Goto is the recipient of the University Service award.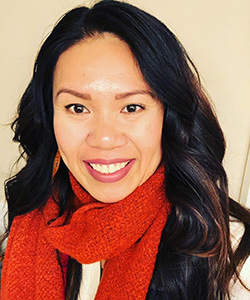 Professional Achievement Award
Rolita Flores Ezeonu, Ed.D, '06
College of Education
As the daughter of immigrants and a first-generation college student, Dr. Rolita Flores Ezeonu's academic success was made possible in large part by her family, community, and mentors' generous support and belief in her. Ezeonu is honored to have built a career helping students who come from similar backgrounds. For 25 years she has transformed educational institutions so they can better serve the most marginalized communities.
Throughout her career, Ezeonu has served as a leading administrator for technical and community colleges in South King County. Currently she is the Vice President of Instruction at Green River College. She boldly draws from her culture, experiences and values to create partnerships, develop programs and usher in resources that increase access to higher education for minoritized, marginalized and low-income learners.
Ezeonu has also partnered with surrounding communities and local nonprofits to remove barriers and expand access to higher education. She has built relationships with community partners like St. Vincent de Paul's Centro Rendu, Para Los Ninos, and Muckleshoot Tribe to open stronger pathways into technical and transfer programs – helping secure a $1.5 million AANAPISI grant for Highline College. Additionally, she has shared her knowledge and approaches to this work through scholarly publications. She is also a fellow in the Aspen Rising Presidents fellowship this 22-23 year.
In every role, Ezeonu has championed ways to dismantle racism while fostering equity and inclusion.
Having dedicated her career to strengthening educational institutions and the communities that surround them, Ezeonu is well-deserving of the Professional Achievement award.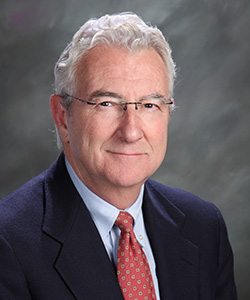 Community Service Award
Tom Roach, '71
College of Arts and Sciences
Tom Roach has deep ties to Seattle University, with 24 family members over three generations, including his mother, Patricia Sullivan Roach, all eight of his siblings, and two of his children, having attended SU.
For more than 40 years, Roach served as an immigration lawyer, greatly impacting the lives of thousands of Eastern Washington immigrants by helping them navigate the process to gain citizenship status and employment opportunities.
Though he is now retired, Roach has not stopped helping people.
When Russia invaded Ukraine this past spring, Roach was compelled to help. Guided by his values and an intrinsically caring disposition, he traveled to the Balkan countries bordering Ukraine. There, he set out to provide assistance to refugees in whatever way he could. Before long, he was putting in countless hours of volunteer work, preparing bags of food for displaced families.
When Roach learned of Ukrainian children unable to go to school, he jumped into action once again. He reached out to 250 friends and family and, almost overnight, raised enough revenue to fund a summer school program, including two full-time teachers, for 51 Ukrainian refugee students.
For his recent good deeds and for a lifetime of serving communities in need, Roach is the recipient of the Community Service award.
***
Congratulations to all of the award winners! We look forward to celebrating their accomplishments on Friday, February 10, at Pigott Atrium and Auditorium — we hope you'll join us.
The SUAA has a long history of honoring exceptional alumni. To see a list of past award recipients, click here.